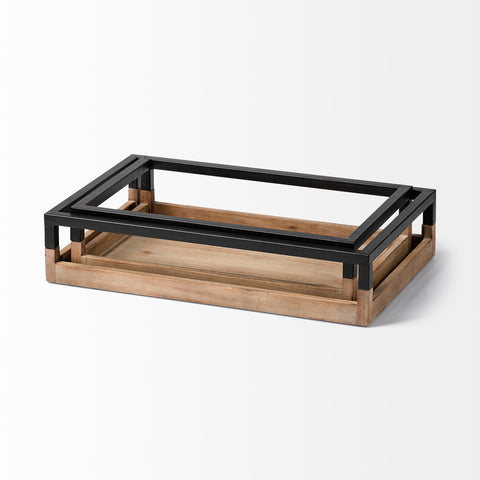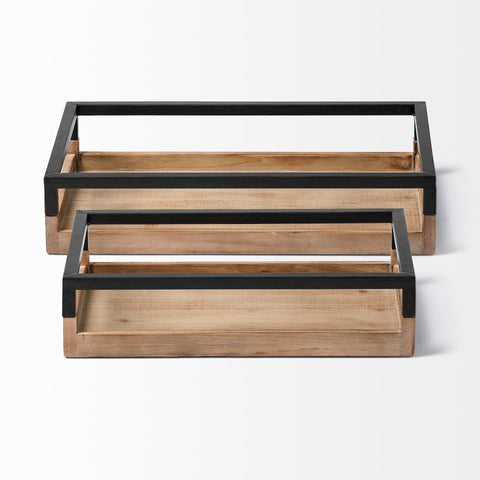 Ross set of 2 decor trays
Ross Set of 2 Natural Wood W/ Black Metal Nesting Trays
The Ross is a set of two stylish nesting trays that are meticulously crafted from naturally finished wood with matte-black metal accents. They can be used as serving trays or decorative objects and fit perfectly in spaces based on the Farmhouse.
18.9" Long Tray

The Ross tray, measuring 18.9" long by 11.8" wide by 3.9" high, is a stylish addition to any space.  
Metal and Wood Construction

The Ross, skillfully crafted from wood and metal, is a beautiful and unique addition to your space that is sure to stand the test of time. 
Superior Finish

The Ross is finished in a natural brown and matte-black tone, making it a stunning piece that is sure to turn heads. 
Modern/Farmhouse Inspired Design

Featuring a stunning design that flaunts clean lines and subtle curves, this tray makes for a gorgeous addition to spaces based on the modern or farmhouse design style.  
No Assembly Required

Delivered pre-assembled and ready to display, this tray allows you to add a beautiful touch to your space in no time.