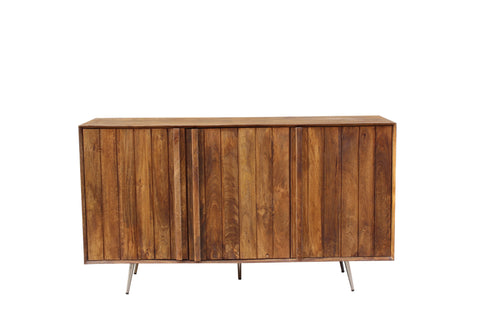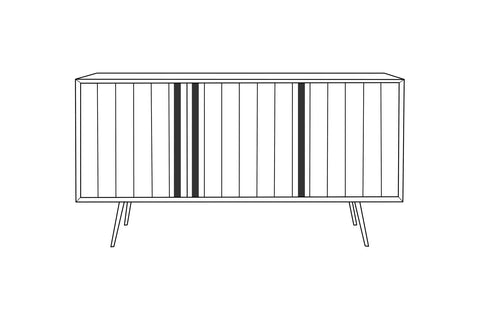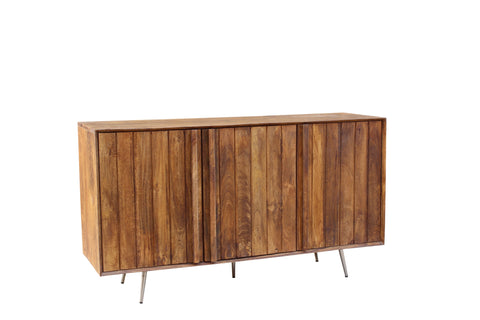 CATHAL Sideboard / Buffet 59" - Mango Wood - Light Brown Metal Legs
Can you just picture this beautiful Sideboard in your living room or In the dining room as a buffet, where the light brown Mango wood finish will really set off any kind of collection you would display on it? Having a large amount of storage, this sideboard can accommodate any items from small to larger sizes. With wonderful straight subtle  metal legs,  three doors and a large display surface, this sideboard/buffet will steal the attention of any person entering the room and become the center of attention!!
Design :

Modern rustic
Rustic Modern is a combination of several styles, including industrial, mid-century and of course, rustic.
Modern Rustic design is a style that incorporates modern and contemporary features in a log cabin or farmhouse-style home
 Product Dimensions:

Length: 57"

Width: 17''

Height: 31"



Materials:

Mango Wood
High durability, Mango wood is extracted from mango trees that we all know are strong and slow-growing. The slabs obtained from mango wood are very strong and dense, making it one of the most durable woods out there.
Metal

A solid material that is typically hard, shiny, malleable, fusible, and ductile.

Storage & Features

3 Large  Doors.

Finish:

Stained

Colour:

Wood: Natural Brown

Metal Legs
Weight: 43Kg