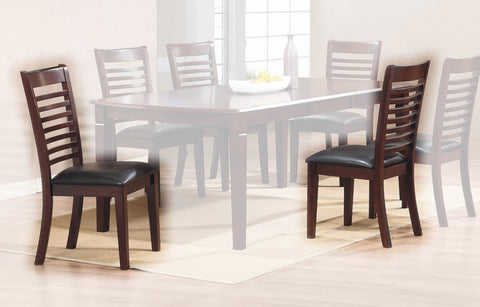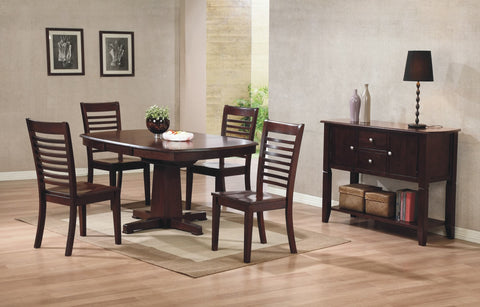 Santa Fe Ladderback Chair - C1-SF452S
SKU: C1-SF452S-C
ISBN: C1-SF452S
Description
A favourite contemporary/transitional dining among our customers! 100% solid hardwood table and choice of chairs in dark chocolate finish. Beveled edges and square legs/pedestal accentuate its simplicity in design. Solid wood in our furniture is made of pieces of genuine hardwood (oak, cherry, rubberwood, etc.) and NO man-made substrates, such as particle board, MDF, or plywood. The lumbers are joined together with non-toxic adhesive and other joinery techniques to form bonds that are stronger than wood itself. Solid hardwood used in our furniture is kilned dried for our harsh Canadian climate to minimize warping and cracking. With solid hardwood construction, our furniture will have the utmost durability and longevity. Seat is constructed with wood blocks that are glued, clamped, and secured with screws in the 4 corners of a seat frame. It ensures that the chairs are rigid and stable for the long term. Lesser chairs are made with side rail construction, which should be avoided. Our ready to assembly furniture allows us to cut down the transportation cost and pass the savings to you. However, certain components can never achieve the desired rigidity and durability if they are made KD (knock down). This is why the structural frames/components in our furniture are glued and clamped at the factory in the time-honoured tradition. The ready-to-assembly parts are carefully chosen to maximize saving while still providing strong structure to the furniture.
Dimensions: 18W x 22D x 39H (in)
Download Assembly Instructions here.